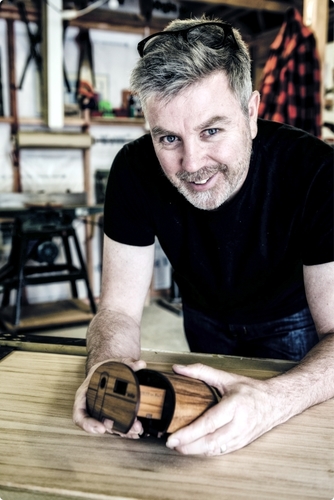 ABOUT IAN
Growing up on a farm in the Waikato, my father taught me about the value and versatility of timber. After sanding back a bit of old Rimu one day I fell in love with native NZ timbers. Rimu continues to be my personal timber of choice, providing a unique , striking and contrasting grain unlike any other I've encountered.
A carpentry and cabinet making apprenticeship led me into a career working with wood. Developing my technical skills and gaining experience over the years only fuels my love of working with timber and as a result I've developed a hand finished range I'm truly proud of.

Today I'm lucky enough to call the rugged West Coast of the North Island home.Together with my wife and our two young daughters I continue to be amazed and draw inspiration from all things 'Kiwi' and the natural beauty of our surrounds. I feel privileged to do what I do and love representing this land in my work.

We are proud to be New Zealand made and all our wooden products are lovingly created and distributed by our talented team in Riverton (30 minutes West of Invercargill).
Cut using the latest laser technology every product is then assembled and finished by hand.
You can be sure that every one of our pieces has been put together with great care, attention to detail and the Pride of the South!
ABOUT OUR WOODEN PRODUCTS
Many of our products are made from kiln dried New Zealand Rimu Veneer and finished with an organic citrus based oil. Because Rimu has such a distinctive grain every one of our products is truly unique.
As our timber is Kiln dried there is no issue sending or taking our product overseas, just remember to declare it on your customs form.
If in time your product should need refreshing, simply ensure it is dust free and apply a small amount of vegetable oil with a soft cloth, then wipe away any excess